This garden in Romsey near Southampton was in desperate need of a full makeover. There had been several DIY attempts at landscaping over the years as you can see from the 'before pictures'. We removed the old patio, brick built pond, and lawn but carefully retained the existing planting which was the best feature of the garden.
A beautiful smooth sawn sandstone patio was built in the bottom sunny corner away from the house. To one side we built a rill to give the gentle sound of running water in this tranquil corner of the garden. A nicely finished brand new lawn with stone planks encouraging movement across the garden led to the matching stone around the house which greatly lightened and brightened this shady part of the garden.
Finally our skilled horticulturalists carefully replanted the existing planting without any casualties, leaving the delighted clients with a light and airy, stylish yet very contemporary garden to enjoy.
The finished result.
Here are a couple of shots of the 3D model we built for this design. The observant of you may notice that the border on the left hand side has been increased in width and the stone planks across the garden have extended across the garden to fill the gap. These were suggestions made by the landscaping team and the client and the landscaping team during the build to improve on the original concept.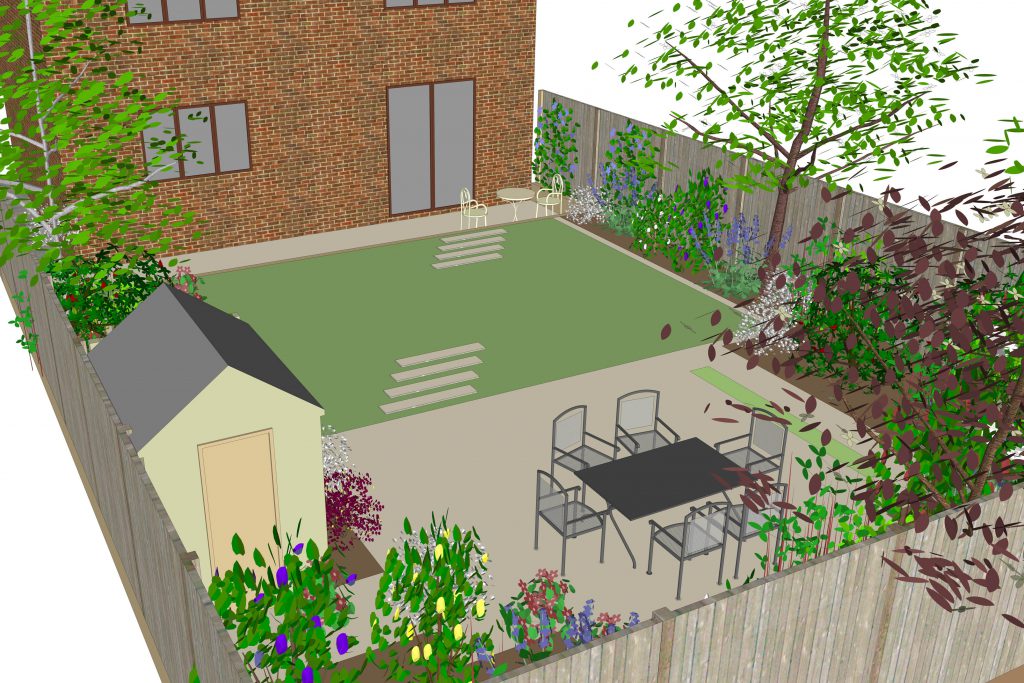 And here's an indication of the challenge we faced when we were first introduced to this garden.